Window Screens
Call on Kraft Screens to professionally repair or replace your damaged window screens. We use only high quality aluminum frames…
Screen Door
Kraft Screens is the source to turn to for screen doors in the Portland area. We offer a variety of screen doors and can install on many types of doors…
Security Products
For security doors installation and the protection of your family, trust our family at Kraft Screens. The strength of these security doors will bring…
Door Installation
Kraft's technicians will show you many options for your doors. The specialist will take measurements of your opening, go over the entire installation process with you, and then send you a quote…
Motorized Screens
Kraft screens can help make your outdoor living area more usable throughout the year. These motorized screens roll up and out the way when not in use…
Storm Doors
For the local experts in storm door installation, call upon the professionals at Kraft Screens, servicing Portland, OR. We will weatherize…
Patio Enclosures
Patio Enclosures are a great way to extend your living space to the outdoors. Kraft Screens can help customers select from a variety of products that will best fit your needs…
Retractable Screens
Wizard Retractable Screen Doors make indoor and outdoor living easy. They allow for the functionality of a screen door when needed for…
Pet Screen Products
Our pets are part of the family. We always want what is best for them and to make them comfortable. We know that maintaining and protecting…
About Us
Kraft Mobile Screen Service is locally owned and operated. We launched our screening company in 1995 and quickly established ourselves as the leading local mobile screen service. It wasn't long before we began to offer additional products and services to complement our mobile screening business. Storm and Security Doors, as well as Wizard Retractable Screen Doors and pet-related products have all become vital components to our business.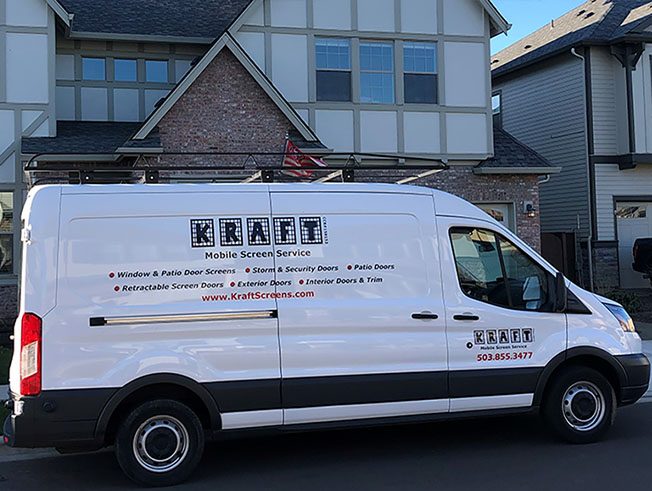 Seth was great! Was able to come earlier than scheduled to measure; came on time to install my patio slider. He answered questions with out making me feel stupid for asking, was very respectful of my house and property, and left my deck cleaner than he found it. Thanks so much, Kraft, for a great experience. The door works like a charm and looks beautiful, btw.
Sandra D.
When we moved into our new home it had a covered porch which I wanted to screen in for bug-free dining and a "catio" for our inside-only cat. And keep the view of the back yard. None of the contractors seemed to know what I wanted. Then finally I was referred to Kraft Screen and Door. Jake came out, understood immediately what I wanted, and proposed a design. I was happy. A few days later he came with an even better idea and a sample of what he had in mind. He installed it a few weeks later. I love it. It is a clean look with wide panels that preserve the view of the back yard. It was on time, on budget, and excellent workmanship. I would not hesitate to recommend them.
Walda M.
We've had a retractable screen door since 2005 that had seen its day. Kraft offered a repair, replacement of the screen, or replacement of the entire door. We chose a screen replacement. Danny and Taylor were extremely polite, and the replacement was handled in a timely fashion, at a reasonable price. I would highly recommend this company, and I plan to use them again for another screen job.
Jo-Ann M.